Welcome
I always get asked a certain question when I meet new people, so let's just get right to it.
Yes. I'm tall. I am 6 foot 10 inches.
Yes. I would come in handy on your company basketball team.
a bit more about me:
2005: BFA • Weber State University • Graphic Design
02-10: Hazen Photography • Designer • Wedding Videographer
2008: Co-founded Polished Play LLC • Educational App Company
2010: Launched Puppet Pals 1
2012: Launched Puppet Pals 2
2013: Contracted with Disney for "Story Theater" apps
2014: Disney Properties: Toy Story, Princesses, Sheriff Callie
2015: Created Motion Graphics App • Core Animator
2017: Authored Children's illustrated Storybooks
2018: Puppet Pals related apps surpass 13 Million Downloads
Skills:
Adobe Creative Suite
Motion Graphics
Photography / Video Experience
App Development (Design, UI, UX)
Now for the important stuff-
Dependable, Hardworking, Self Motivated & A Creative Problem Solver
Co-Founder / Creative Director at Polished Play
Most of my pieces fall under the umbrella of Polished Play app development. My co-founder and I have poured our hearts into these passion projects, and we have seen some great successes over the years. My co-founder has done all the programming, and I have handled all the creative side of our projects. I love the whole design approach to creating an app. Designing everything from the user experience to the art, the sounds, & animations is so rewarding. Ensuring that the entire experience is cohesive, is an incredibly challenging, yet satisfying experience.
Puppet Pals 1 & 2 apps • Disney Story Theaters
These are our most famous apps over the years. As of 2018, we have seen over 13 million downloads of Puppet Pals 1 & 2. We are used heavily in the education space which has been immensely gratifying. Apple has featured our work and Disney contracted us to create their "Story Theater" apps. The Story Theater apps are skins based on Puppet Pals. We have done the following Disney Properties: Toy Story, Disney Princesses, Frozen, Sheriff Callie, & Sofia the First. We are proud to have created something so loved.
Shot Watcher Logo and UI
An app designed to track basketball shot percentage from Apple watch or iPhone. A clever name and clean look that also takes advantage of the latest super high resolution mobile screens by incorporating tick mark minutiae around the outer edge of the logo. The UI is simple and intuitive and provides maximum information at a glance with minimal clutter.
Ego: Big Head Animation
I try not to get a big head, but this app was l̶i̶t̶e̶r̶a̶l̶l̶y̶ …err… figuratively asking for it. This app allows you to replace your head over any video for hilarious results, like this. The name evokes its essence well, and I took the logo on as an emotive silhouette character throughout. I love the animation using simple stark shapes.


APP Store Feature Banners
Over the years of app development, we have been fortunate to have Apple request for promotional art to feature our apps prominently on their App Store. This causes a nice surge of downloads, as well as a big boost to the aforementioned ego.
Runback Attack
You've seen endless runners before, but not one like this! Mostly because we have never finalized and released this one to the App Store 😜. But it does sport some catchy looks, logos, & animations. We really should polish this up and release it. It even lets you put your own funny faces in the helmet and react to the game! Well, it will… when we finish it… really.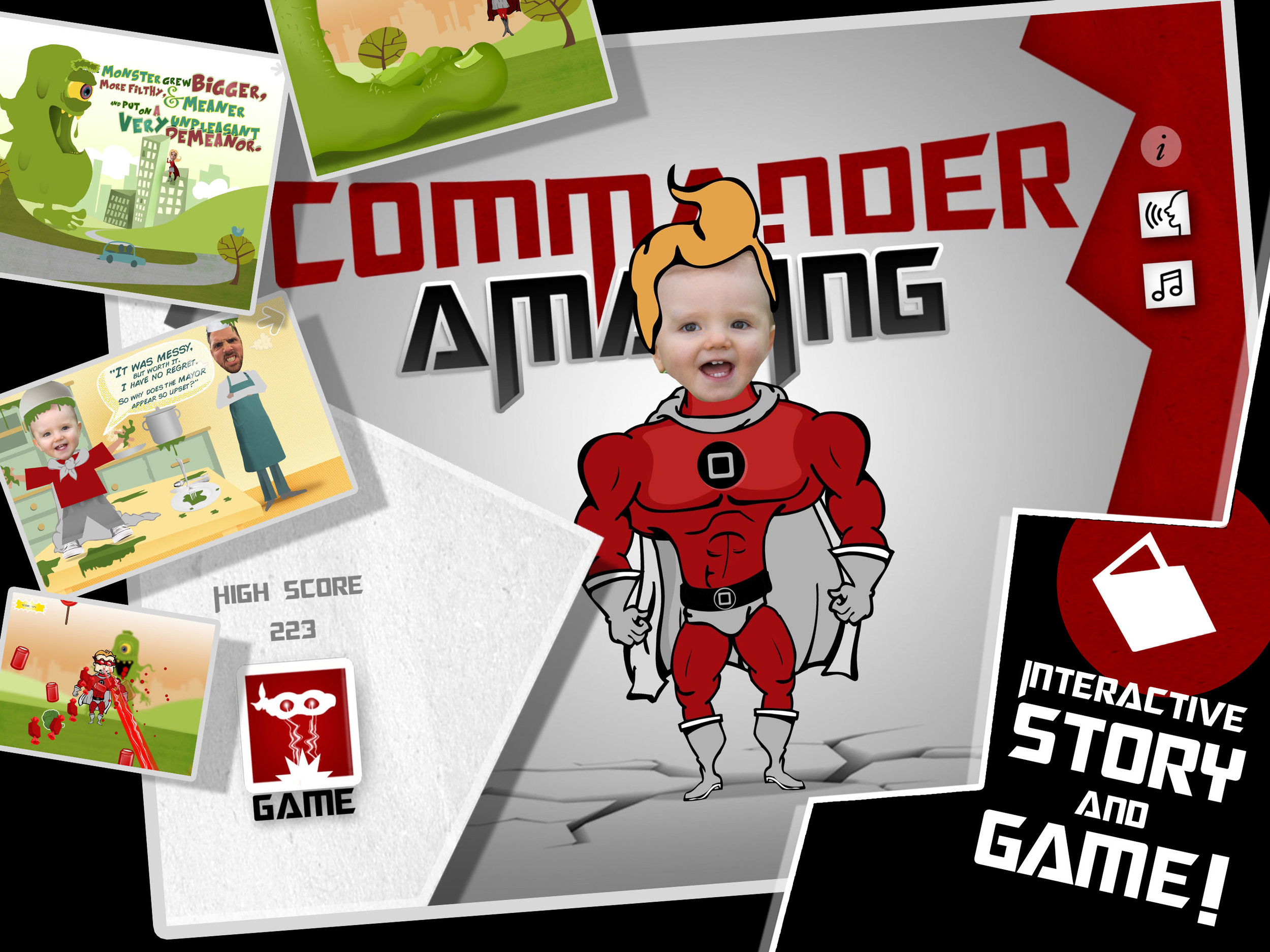 Story Books
There is a lot going on with these. I wrote, illustrated and animated these interactive story books. These are probably some of the most fun projects I have ever worked on. I was free to just come up with creative ideas from scratch and run with them. There is more art and videos of these in action over here. Or even better, download them from the app store for the full experience. I would suggest this one to start with.
iOS Sticker Packs
Remember how Apple came out with those awesome stickers you could use in your iMessages app? Yeah, no one really remembers that. But we did get excited about it for a hot minute and now I have some more illustrations for my portfolio! Also, tons of puns. I love puns. Hey, I'll have you know that Leonardo Da Vinci loved puns too so don't judge me.
Core Animator
This was a huge project to undertake for our small team. We had two developers tackling this. I took care of all the UI/UX design, logos, tutorial videos and sample projects. You can get a fuller idea of this immense project here. We created our own motion graphics software on Mac and iPad to better suit the needs of developers creating animations in iOS apps. We were featured by Apple for our efforts and helped many developers create stunning animations in their apps. We also ended up supporting video export and html 5 as well. Core Animator is the most advanced keyframe animator on the iOS App Store.
Various Motion Graphics
These are just a few simple examples of some video effects I have done. Many more samples can be found here.